urbainable – stadthaltig. Positions on the European City for the 21st Century
An exhibition by members of the Architecture Section of the Akademie der Künste
5 September – 22 November 2020
Akademie der Künste, Hanseatenweg 10, Berlin, all halls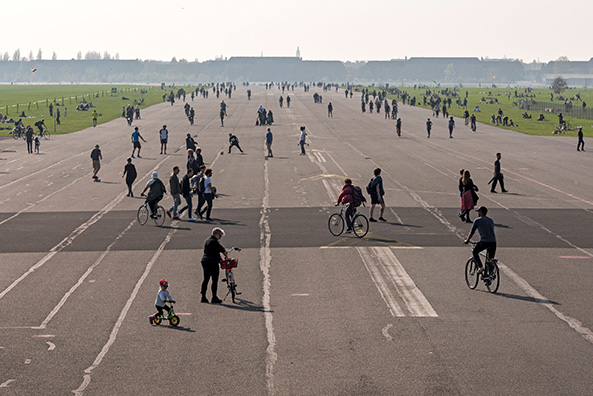 Berlin, former Tempelhof airport, 2017. Photo © Erik-Jan Ouwerkerk
The exhibition "urbainable – stadthaltig" examines the role of the European city and its architecture in the age of global warming, digitisation, demographic change and the dissolution of traditional social networks. The word creation 'urbainable' in the exhibition's title refers to the hypothesis that sustainability and urbanity should not be considered opposites, but rather that a more responsible use of the city's functional mechanisms is also the key to a more sustainable existence.
"urbainable – stadthaltig" is a group exhibition, in which members of the Architecture Section of the Akademie der Künste introduce themselves and their work in the form of projects, visionary concepts and initiatives, thus presenting their positions for the 21st century. The exhibition provides insights into European architecture and urban planning at the start of the '20s of the new century. Other topics, in addition to completed architecture projects and those currently in planning, include digitisation in the design process, mobility, transformation of the new and preservation of the old, cultural techniques of density, working with nature and technological innovations. The members come from the fields of architecture, landscape and urban planning as well as history and theory of architecture. The exhibition is introduced with a research project carried out by the Leibniz Universität Hannover in cooperation with the Berlin-based photographer Erik-Jan Ouwerkerk. In this project, photos, drawings and texts are used to communicate to visitors the potential for sustainable development that exists in our cities. The publication to accompany the exhibition is published by ArchiTangle.
Although the exhibition was planned and conceived before the corona crisis, the implementation must take into account the experience of the pandemic. It is still unclear what aspects of public and cultural life will be possible when the exhibition opens. At the same time, the corona crisis is already demonstrating the great degree of versatility and creative potential that our cities hold.

Curators: Tim Rieniets, Matthias Sauerbruch, Jörn Walter
Participating Members: Fritz Auer, Thomas Auer, Klaus Bollinger, Michael Bräuer, Arno Brandlhuber, Winfried Brenne, Kees Christiaanse, Annette Gigon, Almut Grüntuch-Ernst, Guido Hager, Peter Haimerl, Thomas Herzog, Regine Keller, Karla Kowalski, Anne Lacaton, Pierre Laconte, Regine Leibinger, Hilde Léon, HG Merz, Günter Nagel, Florian Nagler, Irina Raud, Ian Ritchie, Matthias Sauerbruch, Jörg Schlaich, Helmut C. Schulitz, Thomas Sieverts, Enrique Sobejano, Volker Staab, Christiane Thalgott, Kjetil T. Thorsen, Marco Venturi, Jörn Walter, Wilfried Wang

An exhibition by members of the Architecture Section of the Akademie der Künste, supported by the Wüstenrot Stiftung.
With the friendly support of PERI Vertrieb Deutschland GmbH & Co. KG and Euroboden GmbH.
CONTINENT – In Search of Europe
An exhibition by OSTKREUZ – Agentur der Fotografen and Akademie der Künste
2 October 2020 – 10 January 2021
Akademie der Künste, Pariser Platz 4, 10117 Berlin
Opening: 1 October together with the EMOP Opening Days
EMOP Berlin 1 – 31 October 2020 in Berlin and Potsdam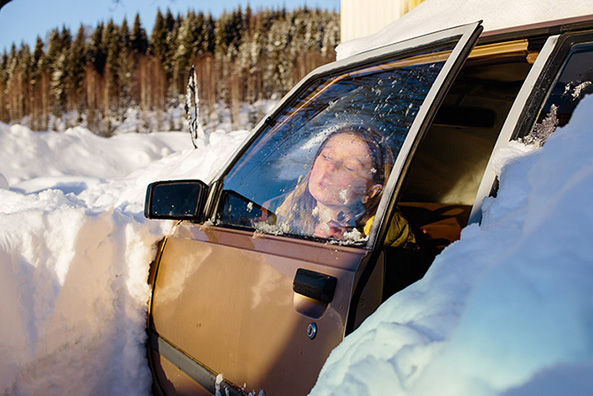 Espen Eichhöfer, Bil, from the series Papa, Gerd and the Northman, 2017–2020. Foto © Espen Eichhöfer/OSTKREUZ
"KONTINENT – Auf der Suche nach Europa" [CONTINENT – In Search of Europe] is the new thematic joint exhibition put on by all members of OSTKREUZ – Agentur der Fotografen, in cooperation with the Akademie der Künste. It kicks off on 1 October 2020 with the European Month of Photography (EMOP).
The exhibition in the Akademie der Künste on Pariser Platz is conceived of as an artistic and political statement with a focus on the present state of Europe, which will be critically examined in 22 positions. In a series of independent artistic projects, the OSTKREUZ photographers explore various aspects of coexistence in Europe, shedding light on personal, societal and political phenomena, as well as on underlying structures and historical developments.
Through their pictures of people and the environments they live in, these photographers find access to complex topics, ranging from questions of identity and security to renationalization, migration and integration, to a fundamental understanding of humanism, democracy and freedom of expression.
"KONTINENT" hopes to provide fruitful impulses for the current discourse on Europe by asking such questions as: What is it that connects us? How do we coexist? Who is meant when people speak of Europeans?
Participating artists: Jörg Brüggemann, Espen Eichhöfer, Sibylle Fendt, Johanna-Maria Fritz, Annette Hauschild, Harald Hauswald, Heinrich Holtgreve, Tobias Kruse, Ute Mahler, Werner Mahler, Dawin Meckel, Thomas Meyer, Frank Schinski, Jordis Antonia Schlösser, Ina Schoenenburg, Anne Schönharting, Linn Schröder, Stephanie Steinkopf, Mila Teshaieva, Heinrich Völkel, Maurice Weiss, Sebastian Wells and Sibylle Bergemann (1941–2010)
Curator: Ingo Taubhorn
The exhibition is supported by European Fund for Regional Development (ERDF), the Senate Department for Culture and Europe and the Society of Friends of the Akademie der Künste.
Alliance of Academies. A Conference of European Cultural Institutions
Opening evening: Thursday, 8 October 2020
Akademie der Künste, Pariser Platz 4, 10117 Berlin
Conference – Lectures – Musical intervention
The Akademie der Künste advocates for the freedom of the arts and calls upon other art academies and relevant cultural institutions across Europe to form an "Alliance of Academies". The network will aim to preserve the cultural diversity of European societies and counteract nationalistic tendencies as well as any form of censorship in cultural policy. A joint manifesto articulates this stance and practices political responsibility as a commitment for the future.
The "Alliance of Academies" can serve the participating institutions in actively supporting each other and standing up for the common goal – an open and democratic Europe.
The opening event on Thursday evening, 8 October 2020, is open to the public.
Further information to follow.

Funded by:

As part of:
Scroll