All publications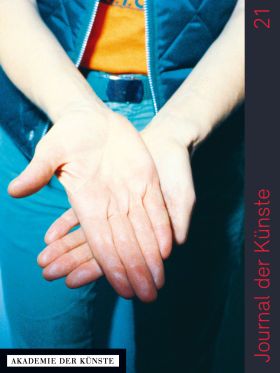 Journal der Künste 21
Published three times a year (German/English), available free of charge
ISSN (Print EN) 2627-2490
The 21st issue with a new design focuses on questions of sustainability: with texts and photo series on "The Great Repair" by Anh-Linh Ngo, Zara Pfeifer and Mierle Laderman Ukeles, among others, and literary contributions by Ulrike Draesner and Cécile Wajsbrot. Also: conversations with Luc Tuymans and Gundula Schulze Eldowy, short essays by Anna Hetzer, Moshtari Hilal et. al. as well as news from the Archives.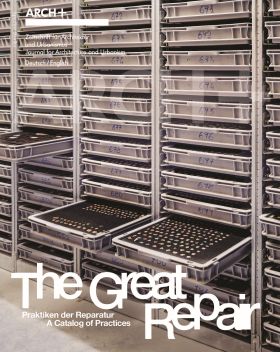 ARCH+ 253: The Great Repair – Praktiken der Reparatur/A Catalog of Practices
ARCH+/Spector Books
German/English, 216 pp.,
zahlreiche ill.
ISBN 978-3-931435-80-6
Best.-Nr. 2080
€ 24
"The Great Repair" is an oxymoron. The title captures the convergence of two seemingly contradictory principles: the revolutionary ambition for systemic change and the evolutionary act of repair. Despite the justified (postmodern) skepticism toward revolution as a concept of rupture, we must not abandon our aspiration to bring about profound transformation.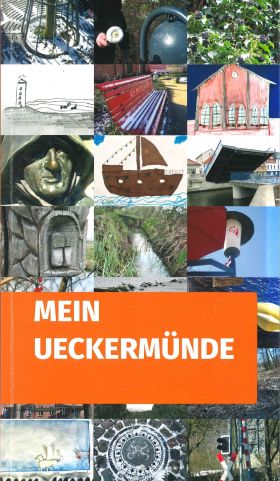 MEIN UECKERMÜNDE
Ein Stadtführer von 113 Kindern
Akademie der Künste, Berlin 2023
German, 76 pp.,
118 ill.
ISBN 978-3-88331-256-9
Best.-Nr. 1208
€ 6
113 children from the "Ehm Welk" Regional School in Ueckermünde explored their town for a week in March and recorded their discoveries in photos, pictures, films, sounds and animations, writing stories and drawing fictitious town maps. Artists supported the fifth graders. The result is an alternative city guide that goes beyond the classic book format to include acoustic and cinematic elements.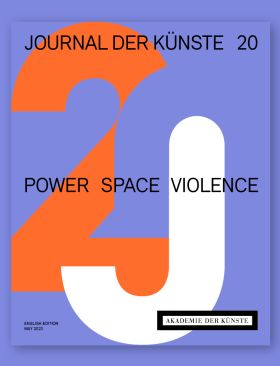 Journal der Künste 20
Published three times a year (German/English), available free of charge
ISSN (Print EN) 2627-2490
Accompanying the current exhibition, the 20th issue focuses on the context of power, space, and violence. Other topics include exile, artistic freedom, the broadcasting crisis, and the role of the arts in the revolutionary process in Iran. With contributions by and with Regina Stephan, Monica Bonvicini, Joanna Piotrowska, Eszter Salamon, Philipp Krüpe , Mina Keshavarz, Tanasgol Sabbagh, Matthias Lilienthal, Meron Mendel, Senthuran Varatharajah, Dominic Graf, Gerhart Baum, Sibylle Hoimann and Annett Gröschner, among others.
To order the printed version: info@adk.de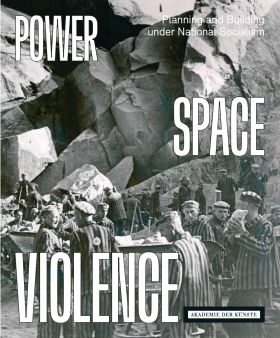 POWER SPACE VIOLENCE.
Planning and Building under National Socialism
Unabhängige Historikerkommission (UHK) in cooperation with the Akademie der Künste, Berlin
Akademie der Künste, Berlin 2023
English, 320 pp.,
420 ill.
ISBN 978-3-88331-255-2
Best.-Nr. 2079-E
out of print
Planning and building under the National Socialists pervaded all areas of life between 1933 and 1945 and were inseparably linked to the regime's totalitarian practices – both in the German Reich and in the European territories it occupied. The members of the Independent Commission of Historians – Wolfgang Benz, Tilman Harlander, Elke Pahl-Weber, Wolfram Pyta, Adelheid von Saldern, Wolfgang Schäche and Regina Stephan – were tasked by what is now the Federal Ministry for Housing, Urban Development and Building with the research project "Planning and Building under the National Socialists: Prerequisities, Institutions, Impacts". The research findings are presented in their essays, each of which draws on contemporary photographs and plans with accompanying commentary to amplify seven areas of focus: Housing and Settlements; Party and State Architecture; Camps in the National Socialist Era; Infrastructure and Spatial Planning; Internationality; Continuities in Urban Planning and Architecture in the East and West after 1945; The Building Legacies of National Socialism. Included in the book are biographies of fifty architects, landscape designers, construction specialists and civil servants.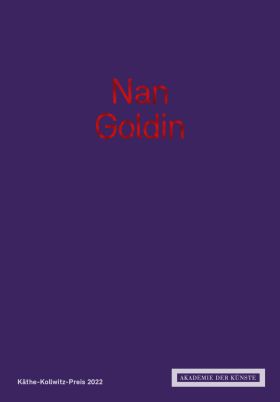 Nan Goldin. Käthe-Kollwitz-Preis 2022
Akademie der Künste, Berlin 2023
German/English, 56 pp.,
25 ill.
ISBN 978-3-88331-253-8
Best.-Nr. 9037
€ 10
Nan Goldin has broken taboos and overcome boundaries with her works set in her personal environment and the LGBTQ* community. In doing so, she has campaigned for acceptance and increasing recognition of the LGBTQ* scene. The immediacy in her photographs stems from her physical and emotional belonging and detachment from a lifeworld that is closed to many people but has been opened up by Goldin. The catalogue marking the occasion of the artist winning the Käthe Kollwitz Prize contains colour and black-and-white images spanning five decades from Boston, New York, Paris, Berlin, and Asia, as well as a recent interview by her friend Thora Siemsen.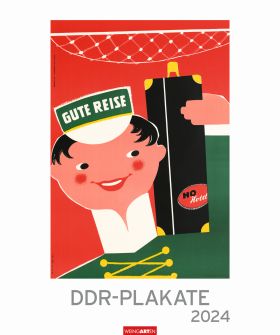 Kalender 2024: DDR-Plakate
Weingarten
Akademie der Künste, Berlin / Athesia Kalenderverlag GmbH, Unterhaching 2023
German, 14 pp.,
12 ill.
ISBN 978-3-8400-8494-2
Best.-Nr. 1210
€ 19,99
Frosty noses are smiled away, the floor is cleaned with ease, clothes and special groceries are bought at Konsum and HO. Even Father Christmas is a regular customer, ho ho ho. Pure experiences, whether in the shower or on holiday. With this calendar, the year will never be boring.
Scroll