Publications
The Akademie der Künste publishes its own publications in connection with exhibitions and special events, as well as new acquisitions in the archives. These include exhibition catalogues, symposia documentation, monographs on individual artists, as well as publications on thematic main focuses and on selected archival collections.
Our publications can be ordered by phone or email, and you can visit our bookstore on Hanseatenweg in Berlin, which has access to all of the Akademie der Künste's available books and antiquarian rarities.
Sinn und Form
Every two months, the Akademie der Künste also issues the "Sinn und Form" (Purpose and Form) journal.
Founded in 1949 by Johannes R. Becher and Paul Wiegler, the cultural magazine Sinn und Form (Purpose and Form), published by the Akademie der Künste, is one of the most influential of its kind in Germany. Originally addressed to a literary audience in particular, the journal today is also a venue for philosophical, aesthetic, and social issues, for the meeting of art and science, poetry and anthropology, and is thus a key publication for many Academy members. The ambitious programme has an international focus and comprises selected letters and conversations, essays, poems, and narratives. Findings from the extensive Academy Archive continue to be presented.
Current Publications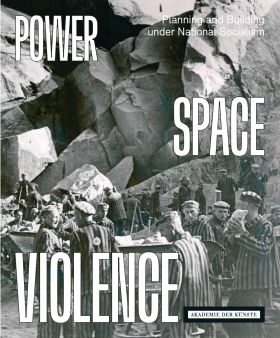 POWER SPACE VIOLENCE.
Planning and Building under National Socialism
Unabhängige Historikerkommission (UHK) in cooperation with the Akademie der Künste, Berlin
Akademie der Künste, Berlin 2023
English, 320 pp.,
420 ill.
ISBN 978-3-88331-255-2
Best.-Nr. 2079-E
€ 20
Planning and building under the National Socialists pervaded all areas of life between 1933 and 1945 and were inseparably linked to the regime's totalitarian practices – both in the German Reich and in the European territories it occupied. The members of the Independent Commission of Historians – Wolfgang Benz, Tilman Harlander, Elke Pahl-Weber, Wolfram Pyta, Adelheid von Saldern, Wolfgang Schäche and Regina Stephan – were tasked by what is now the Federal Ministry for Housing, Urban Development and Building with the research project "Planning and Building under the National Socialists: Prerequisities, Institutions, Impacts". The research findings are presented in their essays, each of which draws on contemporary photographs and plans with accompanying commentary to amplify seven areas of focus: Housing and Settlements; Party and State Architecture; Camps in the National Socialist Era; Infrastructure and Spatial Planning; Internationality; Continuities in Urban Planning and Architecture in the East and West after 1945; The Building Legacies of National Socialism. Included in the book are biographies of fifty architects, landscape designers, construction specialists and civil servants.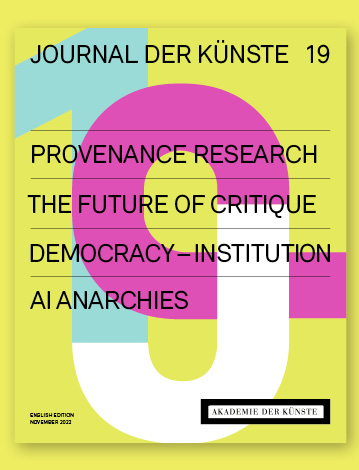 Journal der Künste 19
Published three times a year (German/English), available free of charge
ISSN (Print EN) 2627-2490
ISSN (Online EN) 2627-5198
The new issue looks at the crisis of public broadcasting as an instrument of democracy, at how art deals with the societal challenges of artificial intelligence, and at the changing role of (art) criticism. Other focal points: the current archive exhibition "Spurensicherung," photographs by Nan Goldin and Aleš Šteger on artistic freedom in Europe.
To order the print edition: info@adk.de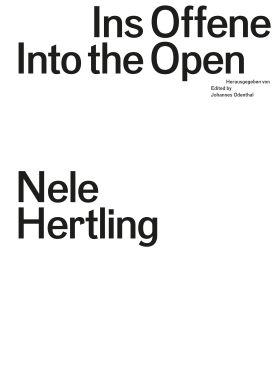 Into the Open. Nele Hertling – New Spaces for the Arts
Johannes Odenthal im Auftrag der Akademie der Künste
Akademie der Künste, Berlin / Spector Books, Leipzig 2022
German/English, 368 pp.,
200 ill.
ISBN 978-3-95905-557-4
Best.-Nr. 5055
€ 29
A tribute to Nele Hertling with artist dedications, essays and extensive interviews on her childhood under National Socialism, her socialisation between East and West Germany and at the Akademie der Künste. The volume documents a unique success story of international programming, the re-founding of the Hebbel-Theater, the invention of festivals and establishment of cultural-political networks: an untiring commitment to the arts over 60 years.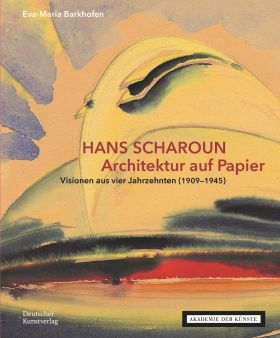 Hans Scharoun – Architektur auf Papier. Visionen aus vier Jahrzehnten (1909-1945)
Eva-Maria Barkhofen Im Auftrag der Akademie der Künste, Berlin
Akademie der Künste, Berlin / Deutscher Kunstverlag GmbH, Berlin/München 2022
German, 324 pp.,
283 ill.
ISBN 978-3-422-98763-0
Best.-Nr. 2078
€ 52
Hans Scharoun is one of the most important German architects of the post-war period. This publication focuses on his free sketches and drawings that were not bound to concrete building projects and were created between 1909 and the end of the Second World War. Up to now, unevaluated sources support the classification of these visionary works, most of which are housed in the Architectural Archives of the Akademie der Künste.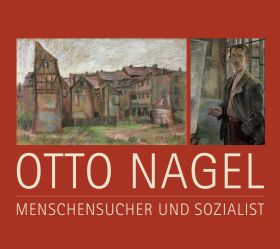 Otto Nagel – Menschensucher und Sozialist
Eckhart J. Gillen im Auftrag der Stadt Eberswalde, in Zusammenarbeit mit der Akademie der Künste, Berlin
Akademie der Künste, Berlin / Stadt Eberswalde, Kulturamt, Eberswalde 2022
German, 116 pp.,
60 ill.
ISBN 978-3-88331-251-4
Best.-Nr. 1207
€ 10
The academic catalogue accompanies the exhibition of paintings and pastels by "Wedding classic" Otto Nagel from the art collection of the Akademie der Künste in the Regionalmuseum Eberswalde. Based on research, especially in the Akademie's Visual Arts Archive, the authors discover astonishing new facets in the life and work of this outstanding 20th-century realist.
Scroll