Publications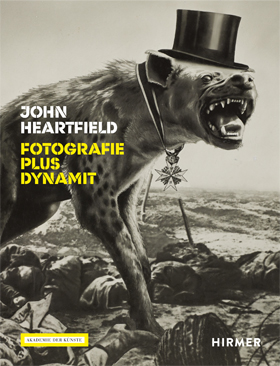 John Heartfield: Krieg und Leichen – Die letzte Hoffnung der Reichen [War and Corpses – The Last Hope of the Rich], 1932 © The Heartfield Community of Heirs / VG Bild-Kunst, Bonn 2020. Akademie der Künste, Berlin
John Heartfield. Photography plus Dynamite
Angela Lammert, Rosa von der Schulenburg and Anna Schultz on behalf on the Akademie der Künste, Berlin (eds.)

Akademie der Künste, Berlin / Hirmer Verlag 2020
312 pages, 250 pictures
ISBN 978-3-7774-3443-8
€ 39,90, € 29,90 (limited offer until 23 August 2020)
The political photomontages and collaged book covers of John Heartfield (1891–1968) have their origins in Berlin Dada. With gripping imagery and trenchant humour, the artist fought against war and Fascism, using works whose explosive power has lost none of its impact today. Like his animated films and theatre work, they are discussed in the context of his own and others' artworks, as well as the archive materials and images he collected. Supplemented by contemporary artists' statements.
With contributions by Vera Chiquet, Richard Deacon, Tacita Dean, Stephan Dörschel, Jeanpaul Goergen, Maria Gough, Steffen Haug, Meike Herdes, Haiko Hübner, Charlotte Klonk, Michael Krejsa, Prem Krishnamurthy, Angela Lammert, Mark Lammert, Marcel Odenbach, Rosa von der Schulenburg, Anna Schultz, Bob Sondermeijer (Enkel Heartfields), Jindřich Toman, Jeff Wall, Erdmut Wizisla and Andrés Zervigón
Excerpt of the catalogue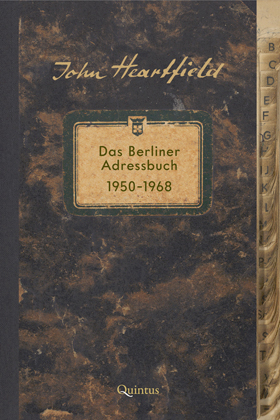 John Heartfield. Das Berliner Adressbuch 1950 bis 1968 © Quintus-Verlag
John Heartfield. Das Berliner Adressbuch 1950–1968
Christine Fischer-Defoy and Michael Krejsa on behalf of the Akademie der Künste, Berlin (eds.)

Akademie der Künste, Berlin / Quintus-Verlag 2020
200 pages, 91 pictures
ISBN 978-3-947215-75-1 (German Edition)
€ 18
John Heartfield – photomonteur, graphic artist and set designer – used the address book after he returned from exile in London and settled in the GDR in 1950. Many of the entries are accompanied by previously unpublished correspondence and photographs, enabling in-depth commentary. Excerpts from the address book, relating to around 120 addressees, are enriched with biographical notes, anecdotes and quotes from the letters.
Press comments
The address book from Heartfield's late years [...] complements the first comprehensive look – which became possible after the opening of the GDR archives – at his time in East Germany. Initially, during those years, Heartfield fell under double suspicion, on the one hand as a "Westemigrant", an emigrant from the West, on the other hand as a montage artist with leaning toward "formalism". It wasn't until 1957, not least of all the initiative of Bertolt Brecht, that he became a member of the Akademie der Künste. In late 1960/early 1961, according to the commentary in the address book, Ulrike Meinhof contacted Heartfield, as she was interested in a cover picture for the magazine konkret. Nothing ever came of it, however.
Lothar Müller, Süddeutsche Zeitung, 6 April 2020
Excerpt from the publication
Interview with the editors
Scroll